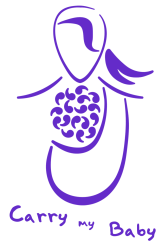 Brand: Luna Baby Carriers
Website: www.carrymybaby.co.uk
Sling Type: Woven Wrap
Positions: A range of carrying positions
Colour: We currently have a Tara Erin (top) and Tara Joy (bottom) woven wrap in the Sevenoaks District
Fabric: 100% cotton, natural dyes, AZO free.
Weight Limits: 3.5kg – 22kg (7.7lb – 48.5lb)
Age Range: 0-36 months
Cleaning Recommendations: Wash at 40C. Do not tumble dry or use bleach, iron at 150C.
Instructions for Use: Instructions can be found on the Luna website.

Video of how to use: Instructional video is available on the www.lunababycarriers.com.
Safety Tests: