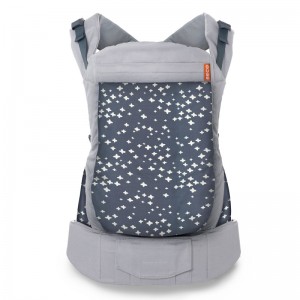 Brand: BECO
Website: www.slumber-roo.co.uk
Sling Type: Soft Structured Carrier or Buckle Carrier
Positions: Front carry and Back carry
Colour: We currently have an Plus One style in the Sevenoaks District
Fabric: 100% cotton shell.
Weight Limits: 9kg – 27kg (20lb – 60lb) separate infant insert needed
Age Range: 18 months +
Cleaning Recommendations: Avoid frequent machine washing. Spot clean as needed. If needed, machine wash on a delicate setting with warm water and a mild detergent. Tumble dry on a low heat and remove when the seams are still damp.
Instructions for Use: Here are copies of the instructions which came with the carrier –
BECO Toddler Front Carry Instructions
Beco Toddler Back Carry Instructions
BECO Toddler Special Features Instructions
Video of how to use: There are various videos on Youtube made by BECO wearers.

Safety Tests: EN 13209-2:2005 ASTM F2236-14 CPSIA