Kent Sling Library
A Sling Library is a little bit like a book library.  We provide an opportunity for everyone to come along to one of our library sessions to –
Learn more about the benefits of using a sling or carrier
Learn about using a sling or carrier safely
See and try from a large range of different options to find the perfect sling or carrier for your family
Receive help in using your own sling or carrier
Receive help in using your sling or carrier in a different position
Rent a sling or carrier to give it a real test drive before buying your own
Rent a sling or carrier for a holiday or special occasion
Use the library as little or as much as you need.  Our babywearing consultants and peer support volunteers are there to help you with whatever you need.
We carry a range of stretchy wraps, woven wraps, ring slings, buckle carriers and meh dais.  Contact us if you want to see anything specific.
We generally run the Sling and Cloth Nappy Library together.  Items are available to rent for a small fee.  We charge £15/month.  Families receiving healthy start vouchers pay no fee.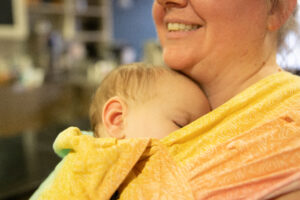 Kent Sling Library Regular Locations
Weekly Locations
We run Kent Sling & Cloth Nappy Library alongside Baby Umbrella groups every week –
Mondays 9:30-11:30am at Christ Church in Tunbridge Wells TN1 1UT
Tuesdays 9:30-11:30am at Tonbridge Baptist Church TN10 3HZ
Fridays 9:30-11:30am at Otford Village Memorial Hall TN14 5PQ (except 2nd Friday of the month 1:45-3:45pm)
A small selection of slings and carriers are available to try on Mondays at Dartford Valley Community Rugby Club DA2 6PD 9:30-11:30am
Monthly Locations
We run Kent Sling & Cloth Nappy Library at the following locations every month –
1st Thursday of the month 9:30-11:30am at Edenbridge Leisure Centre TN8 5LU
2nd Wednesday of the month 10-11:30am at St Edmunds Church, Dartford DA1 5ND
2nd Saturday of the month 9:30-11:30am at Sevenoaks Day Nursery TN14 5DN
2nd Sunday of the month 9:30am-1:30pm at Tonbridge Farmer's Market TN9 1QH
3rd Monday of the month 1-2:30pm at Christ Church, Swanley BR8 8AF
3rd Sunday of the month 9:30am-1:30pm at Aylesford Farmer's Market ME20 7BX
4th Wednesday of the month 9:30-11:30am at New Ash Green Residents Association Offices DA3 8HH
Drop in to any of our sessions with no need to book.  If you'd like to see a specific carrier or sling then contact Karen to check we have it available at karen@psbreastfeeding.co.uk or 07951 600777
Newborn Sling Workshops
We offer FREE workshops for families expecting a baby or with a newborn up to around 6 week of age.  All carers are welcome to join in by coming along to learn more about using slings and carriers comfortably and safely.  We provide everything you will need to try on some options and learn more about how amazing babywearing can be.  It really can be life changing!
We are currently offering workshops across Sevenoaks District thanks to Sevenoaks District Council, in Sevenoaks, Edenbridge, Swanley and New Ash Green.  We also offer one workshop location in Dartford.
You can book a workshop at www.kentbabymatters.as.me
Babywearing Peer Support Volunteer Training
We are always looking for enthusiastic volunteers to help support families with using slings, carriers and cloth nappies.  Karen offers babywearing peer support training when we have enough volunteers and funding to run it.  This is through Born to Carry.  If you'd like some peer supporters trained for your own sling library or hopital setting, just ask Karen at 07951 600777 or karen@psbreastfeeding.co.uk.